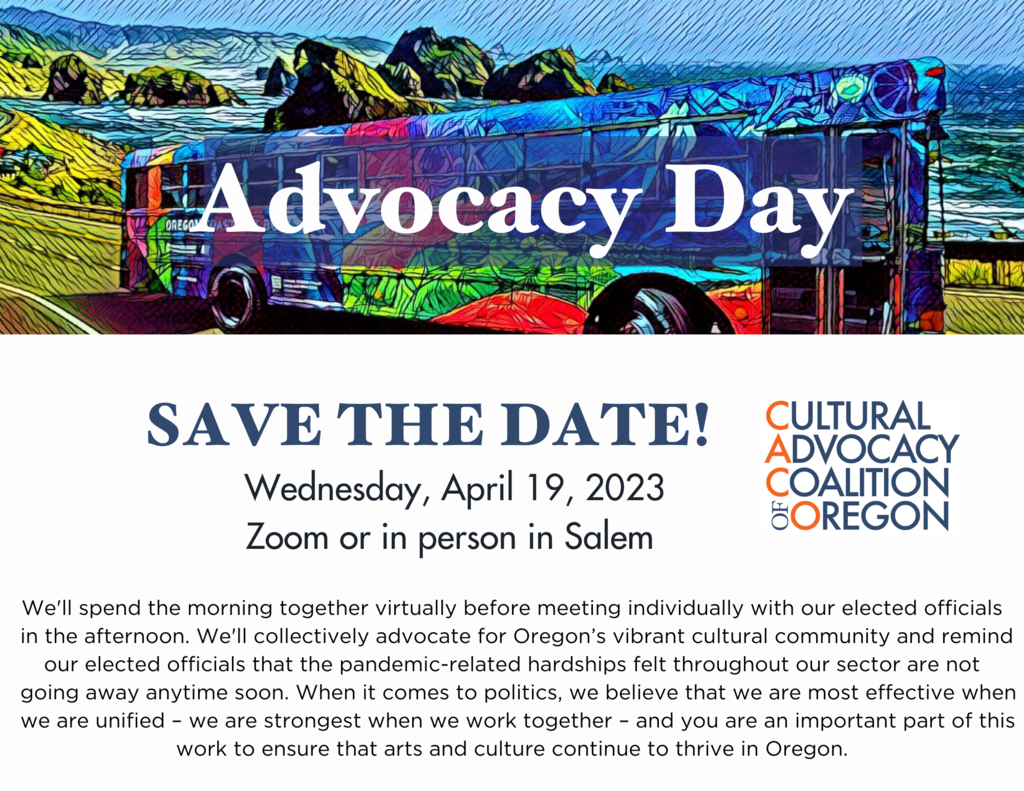 Dear advocates and members,
It's been two years since we've gathered to collectively advocate for Oregon's vibrant cultural community. We've missed the opportunity to check in, connect, and share stories with you all.
With a new legislature in session and new leadership in Salem, now is the time to unite our voices, align our priorities, and remind our elected officials that the pandemic-related hardships felt throughout our sector are not going away anytime soon. When it comes to politics, we believe we are most effective when we are unified. We are strongest when we work together. You are an important part of this work to ensure that arts and culture continue to thrive in Oregon.
Similar to our virtual Advocacy Day in 2021, we will be providing an opportunity for all members and advocates to gather, no matter where you are located across the state. We hope you are able to join us!
Save the date for Wednesday, April 19 (add to your calendar), when we will spend the morning together virtually. We'll dig into our collective priorities, receive some fabulous advocacy training, hear from special guests, and refine our impact stories. In the afternoon, we ask that you set up a meeting with your district's elected officials where you can share your story and put your brand-new advocacy skills into action.
If you'd like to register in advance, you can do so here. Stay tuned for more details coming your way.
And there's more to prepare you!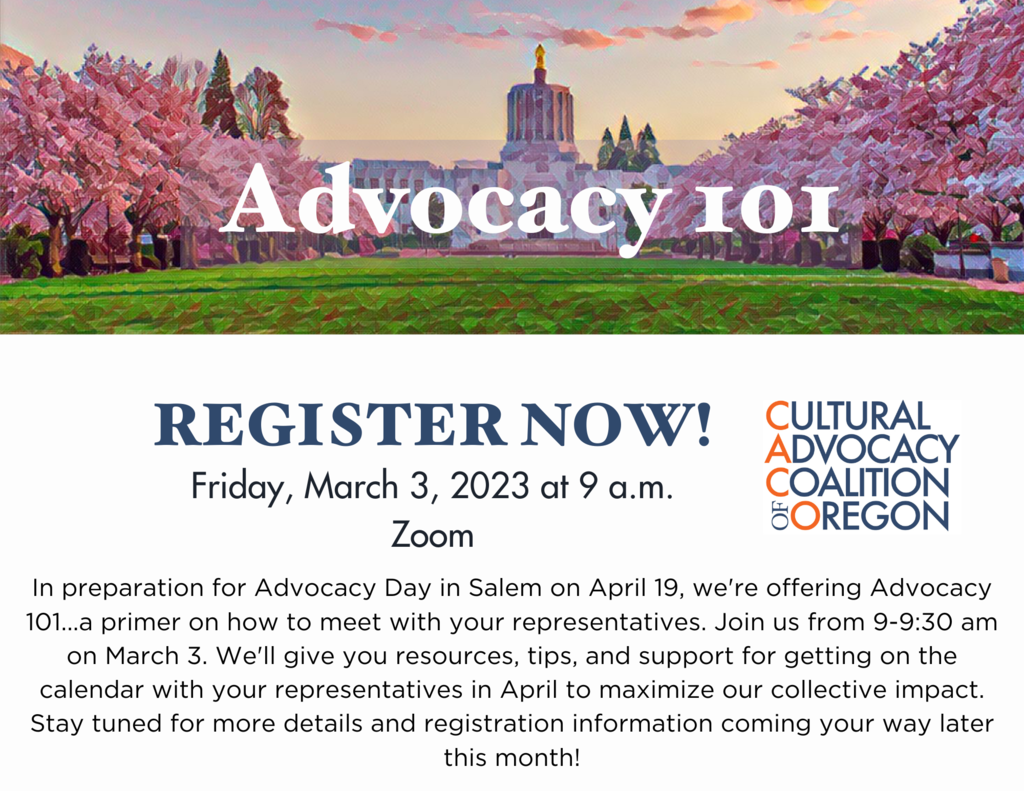 We know you're doing an incredible amount of work to keep your organizations afloat. Your time at a premium. It can be bewildering to navigate the internal workings of Salem.
If you're excited to participate in Advocacy Day 2023 but have no idea where to start, we invite you to join us at 9:00 a.m. on Friday, March 3 for a quick "Advocacy 101."
Register for Advocacy 101 here.
We'll give you resources, tips, and support for getting on the calendar with your representatives in April to maximize our collective impact.
In the meantime, here's a quick preview of our legislative session priorities.
My best,
J.S. May
he/his/him
Board of Directors, President
Executive Director, Artists Repertory Theatre
P.S. Become a member of the coalition or renew your gift today, and stay tuned for more Advocacy Day 2023 information in the coming weeks. 
Questions about Advocacy Day? Write to Cassie Greer at cassie@cassiegreer.com.
(Visited 482 times, 1 visits today)