This article is the third in our series on the 14 capital projects that failed to get funded by the Oregon Legislature in 2023. Only two were funded at $4 million, both in the Portland area. The 14 smaller projects total $7.8 million and are spread throughout the state, mostly in rural areas.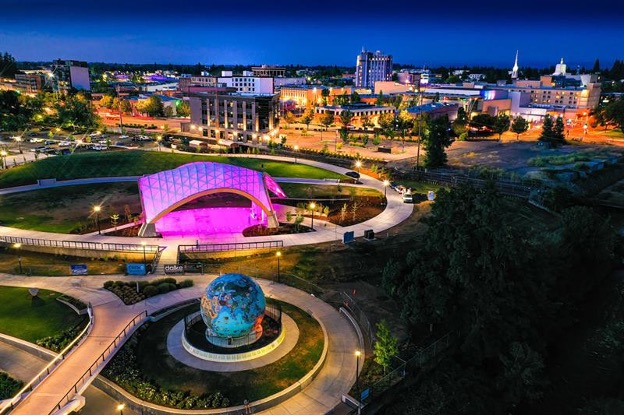 Nestled in the heart of Salem, Riverfront Park is a testament to the city's commitment to preserving nature's beauty while celebrating cultural diversity. The Eco-Earth Globe sits at the center of the park. Crafted over five years by local artists, students, and volunteers, this historic attraction has weathered the elements for two decades. Now it needs restoration to match the park's growing vibrancy.
Originally an acid ball used in the wood pulp processing at the former Boise Cascade operation, the globe was transformed into a stunning work of art by local artists and high school students 20 years ago. Over 86,000 tiles depict the world, reflecting the rich diversity of life on land and water. Beyond the tiles, 200 special icons represent various cultures, religions, and events. Any weather-damaged icons are being repaired or recreated by the original artists, along with current local high school students.
Throughout the year, Riverfront Park hosts a myriad of annual events, from the vibrant World Beat Festival to the Ironman Triathlon. Families gather for summer movies, while the holiday tree lighting ceremony ushers in the festive season. Additionally, the park hosts numerous walk/run and cultural events.
The driving force behind restoring the Eco-Earth Globe is the Salem Parks Foundation, a group of dedicated volunteers with a passion for enhancing the city's parks. Committed to filling gaps in park budgets, the foundation channels resources towards amenities that might otherwise be overlooked. This all-volunteer team, led by board president Carol Snyder, contributes their time and effort to improving Salem's livability.
Beyond its aesthetic appeal and designation as a local historic landmark, the Eco-Earth Globe is a powerful symbol of cultural diversity and global harmony. Its intricate design and icons remind visitors of the interconnectedness of all nations and peoples.
Restoring this cherished monument is estimated to cost $400,000, a sum partially shouldered by the city, leaving $300,000 to be raised. Community members have raised $70,000 from donations, and they were hoping to receive $150,000 in CREF funds from the Oregon Legislature.
The Salem Parks Foundation has been tirelessly working to secure funding, rallying individuals and seeking grants from organizations like the Oregon Cultural Trust and Oregon Community Foundation. Every contribution brings them one step closer to revitalizing this symbol of unity.
Through the dedicated efforts of the Salem Parks Foundation, this landmark can be restored to its former glory. With the support of the community, the renewed Eco-Earth Globe can continue to inspire generations to come. We urge the legislature to fund its restoration.
(Visited 83 times, 1 visits today)